Meet Sally Seaver
While still in high school, Sally gained an introduction to computer technology from her father, a software engineer. These first experiences involved mini-computers—the first departure from mainframes—and the PICK operating system which provided the first portable database. From these early days and later experience, Sally believes she has insight into how computers think. She understands what is easy for them and what is hard; she understands how they organize information.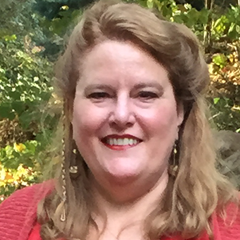 Maybe there is something in the family genes, because her brother works as a professional software developer for GE Healthcare Systems. He provides Sally with a resource for programming trends, perspective and moral support.
After graduating from UC Irvine with formal computer programming training, and bachelor degrees in Physics (1988), Math (1988), and Social Science (1986), Sally gained 10 years of business experience working for companies like Digital Equipment Corp [DEC], AT&T Computer Systems, ADP, and Fidelity Investments. She further gained 3 years of experience related to marketing communication, desktop publishing and automated desktop publishing working at MFS Investment Management. At MFS, Sally achieved the Unsung Hero's Award for work on a variable data publishing project.
Sally founded Active Lightning in March of 2001 in order to pursue independence as well as jobs that require talent across marketing, graphic design production and technical problem-solving.
In the early years, Active Lightning projects consisted of work related to database publishing (also known as variable-data publishing) and custom software development. Sally completed her first automated desktop-publishing project for Cox Hardware & Lumber in 2002.
In late 2006, Sally made the decision to have Active Lightning focus more on e-commerce. At that time, she chose AspDotNetStorefront as the best shopping cart software. AspDotNetStorefront continues to offer a value-priced ecommerce platform when a lot of customization is involved. More and more, the BigCommerce hosted ecommerce platform is a go-to shopping cart solution when the customizastion is more modest. Sally has embraced this platform as well and has clients using it.
In 2007, Sally founded her own ecommerce company Egyptian Cotton T-shirts LLC: a) to take advantage of what she had learned from her clients, b) to gain an even better understanding of e-commerce, and c) to be a proving ground for online marketing strategies. Seeing a fertile ground for business-to-business indutrial ecommerce websites, she decided to accept the challenge of pursuing additional ecommerce opportunities as they became available leading her to found Active Supply, Active Cutting Fluids, and Active Drills.
Sally is a certified producer for TV studio and field production through Boston Neighborhood Network. While completing her certification, she completed a well-received documentary, Is Islam to Blame.
Sally's work as an independent scholar is very important to her. Her work on: a) best practices for creating a formal theory so that it is clear and consistent and b) a new theoretical foundation for mathematics, are presented at www.placeofunderstanding.us. Her work related to a new theory for star-system and planet formation is presented in a book, "Mass Vortex Theory; Development of a Solar System From Atoms To Star" and its companion site: https://massvortex.science/. These days, the demands of Active Lightning, Active Cutting Fluids, Egyptian Cotton Tshirts, Active Supply and theoretical work are so strong that Sally feels fortunate if she can just keep up with personal maintenance—attending to exercise (walking), prayer, and Bible study—feeding the birds, and watering the plants.