Customer Relationship Management and
Business Intelligence Application
Cox Hardware and Lumber
Virgil Cox at Cox Hardware + Lumber in Houston, Texas, decided that he needed a business knowledge database to handle customer relationship management and sales trend tracking. The store's primary computer system handles inventory and sales transactions; it is an Eagle System sold by Activant (formerly known as Triad) running on a UNIX server, with Windows clients. Prior to this project, Cox Hardware & Lumber kept customer relationship information in Outlook.
     Active Lightning built a new database in Microsoft Access with the Eagle data dynamically linked in, and performed a one-time migration of data from Outlook. (Outlook provides a flat database of contact information that was too limiting.) The new database uses 3 Eagle tables dynamically linked via ODBC in addition to 12 new tables. The new database provides the following:
Primary Screen for Managing Customer Relationship
Customer relationship management allows a company to track the following for each customer:
       – contacts
       – locations
       – notes
       – events (such as sales calls, catalog delivery, etc.)
Schedule outbound sales calls and/or sales visits
All customers in a target map region identified for maximizing sales calls per day
Custom customer history report, utilized for managing customer relationship
Annual sales for each customer projected from year-to-date sales
Weekly and annual sales data for sales trend reporting
Sales performance trends reported in connection with events
Ability to search for companies with a given specialty, for inter-customer referrals
Control for tracking customer preferences for who, how, and when they are contacted
Mailing labels for all contacts that have proper mail flag
View sales trend with event history to see how an account responds to various stimuli


Customer History Report
(19 KB pdf)
 
 Screen for Analyzing an Account
shows average weekly profit, and the sales tend line with contact events listed on the right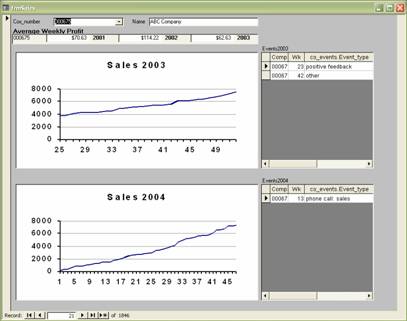 Cox Hardware + Lumber already owned a license for Access and the ODBC driver to their Eagle database. Costs incurred involved purchasing one more license for Access (approx $300) and $4,200 for Active Lightning development services. Some reports were developed by the client.